Welcome to the Box
Front Page Hero

Incorporate Black Box Into Your Technology Strategy
Black Box Technology is aimed at creating innovative technology solutions through partnerships, exchanges, and its own subsidiaries. If you're interested in learning more about how we can help, drop us a line.
The Challenges of Finding the Right Solution
When attempting to tackle complex problems, businesses and organizations often seek assistance from [1] consulting firms, [2] resellers, [3] development teams, and [4] marketing specialists. Several issues often arise throughout this process, such as failing to properly identify and understand the problem, conveying that understanding to all involved in the process, and creating a solution that ultimately solves the problem itself.
To understand how and why this has become such a significant issue, let's step back and look at the big picture and the players involved.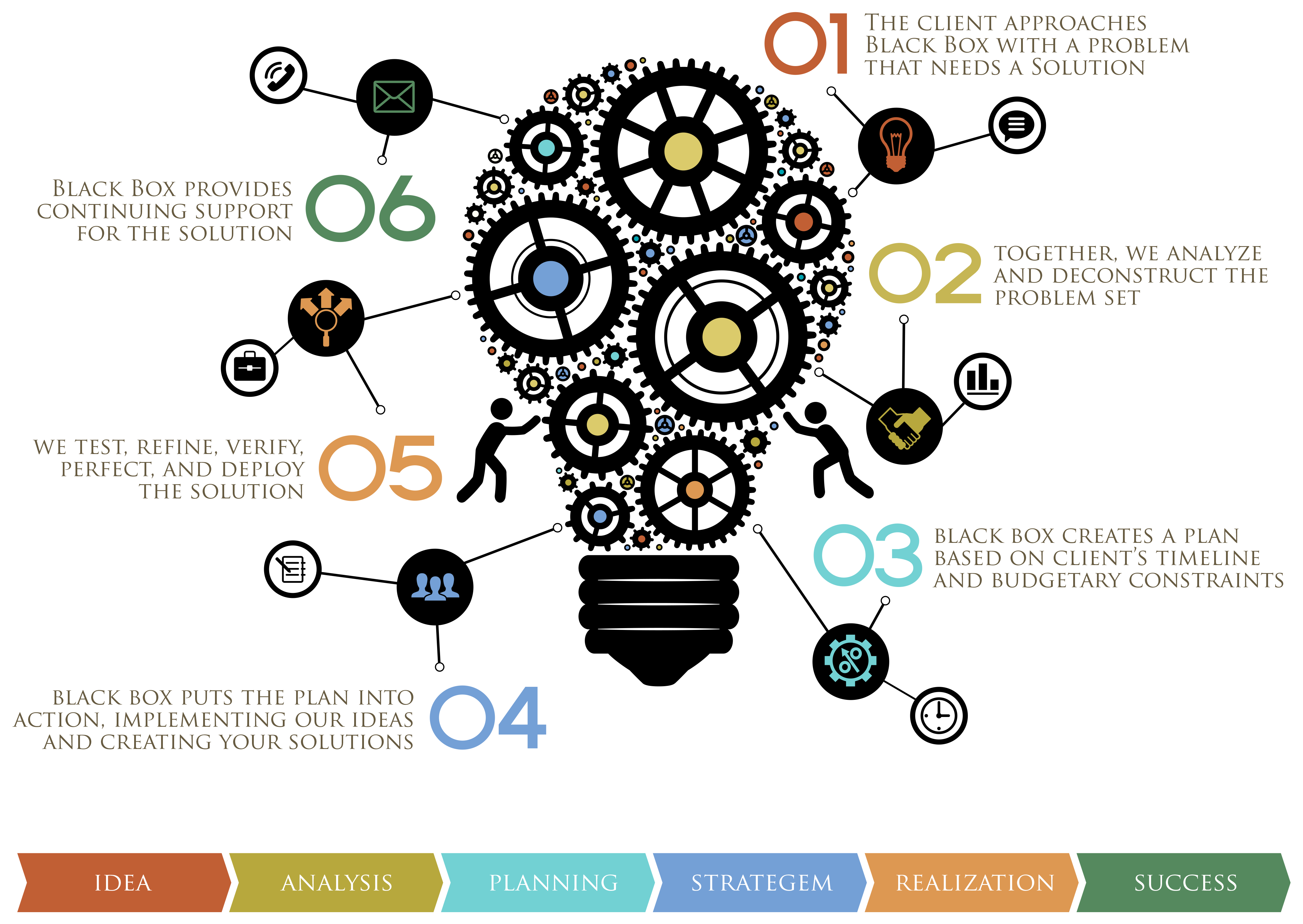 Traditional consulting firms help identify needs, requirements and standards, but rarely do they design, deploy and support actual solutions.
Resellers provide the hardware and software to deploy the solutions, but seldom offer strategic planning, which forces businesses to ally themselves with multiple partners in order to successfully complete projects.
Development teams often create a solution based on its specification, but the specification assumes proper identification of the problem. This often results in higher costs and longer turnaround times as the solution is endlessly revised by the development team, and unfortunately doesn't guarantee the end-result solves the entire problem itself.
Marketing specialists create identities and define campaigns based on the solution, and at this point businesses and organizations find that what they've created isn't a great solution to their problem, but no longer have the resources or time to start over.
By consolidating all these services into a single business, you ensure nothing's lost in translation. Instead of communicating with multiple businesses or partners whenever issues arise, you speak directly with the team responsible for solving your problem.
What Black Box Provides
Black Box is that one partner you need. Our team features high-level professionals with decades of experience across multiple fields both inside and outside the business and technology worlds. From history and anthropology scholars to doctors of computational theory, systems security, and complex statistical analysis/analytics, our breadth and depth of knowledge brings a unique perspective that allows us to help you develop the best strategic plan.
Together, we research and properly identify the problem, evolve our ideas openly, determine an economically viable, holistic solution, perform the full development cycle to create the solution, deploy the solution, and provide a solid support structure after everything's said and done.